What to watch this weekend
It's Summer! Or is it? Shelter from this filthy weather in a cinema somewhere.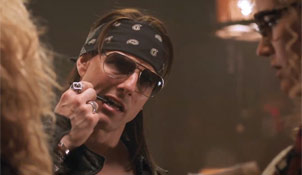 Rock Of Ages

It ain't gonna change the world. But it sure as hell packs in a lot of fun with Tom Cruise doing his best Bon Jovi impression and Russell Brand snogging Alec Baldwin. It was never quite going to live up to the live show. But with Baldwin, Brand, Paul Giamatti and Catherine Zeta Jones rounding out an awesome support cast, it packs in a load of laughs. Singing in your seat permitted.


Fast Girls

A film about British athletes in an Olympic year, it strangely isn't about the Olympics. Apparently the organizing people wouldn't allow it. So we're at the 'world championships' and we don't have enough budget to really convincingly represent the scale of this kind of major sports event. BUT, we're suckers for a sports movie and Lenora Crichlow and the relay team provide a climax that might just cause you to shed a tiny patriotic tear. There are tons of cool beats on the soundtrack too.

A Royal Affair


An engaging romp through Danish royal history, this tells the tale of the queen who fell in love with the royal physician and conspired to pass liberal laws under the idiot king's nose. Ah, that old chestnut.

Perhaps… you should go and see Cosmopolis. Though it won't lift your spirits. I actually think Robert Pattinson did a great job here and if you're a fan you should go and see it, but R-Patz is no more. Go see it to witness him shed his poster-boy trappings.

Still out. Still good: The Dictator, Casa De Mi Padre, Prometheus, The Angel's Share
To celebrate the upcoming release of Iron Man 3 we ask - who's your favourite superhero?
Thanks for being one of the first people to vote. Results will be available soon. Check for results
Total Responses: 1,228
Not scientifically valid. Results are updated every minute.