Analysis: New Dark Knight Rises footage revealed during England game
Yes, the England game is exciting. But for us, perhaps the best bit of the broadcast was about thirty seconds of Dark Knight promo at halftime. Here's what we saw.
"Some men just want to watch the world burn," was Michael Caine's analysis of Heath Ledger's Joker in The Dark Knight. He has a similarly memorable quote for Tom Hardy's Bane this time round: "Born and raised in hell on earth."
It's also revealed that Batman clearly, as previous trailers have suggested, makes an exit during The Dark Knight Rises. We see Bruce Wayne say "get me back in the game" to Morgan Freeman's character early on in the footage. He's clearly coming up with some new toys.

Dark Knight Rises posters and stills collection

The third reveal is a kiss between Marion Cotillard's mysterious character and Bruce Wayne. We know that Miranda Tate works for Wayne enterprises but now we know there's a romantic involvement. HOWEVER, there's another lady who's 'involved' with Bruce/Bats here.

Bruce is outside some function but the valet doesn't have his car keys. "Your wife said you were taking a taxi," says the guy. "My wife!?" says Bruce.

Cut to a shot of Catwoman (Selena Kyle) driving off in Bruce's sports car. We saw the two fighting alongside one another in trailer 3. Now there seems to be a flirtatious element to their relationship. Are we seeing the beginning of a love triangle here?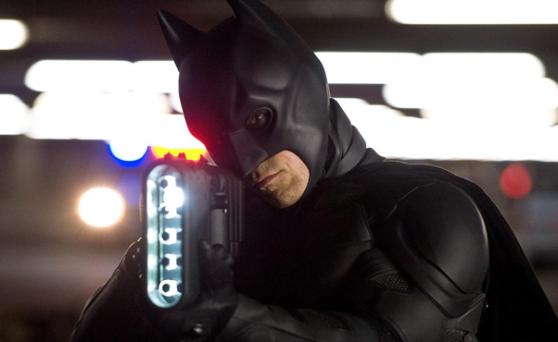 Either way, it was enough to have it chanting like hooligans at the screen. Never have we been so disappointed to see Patrick Viera and Gareth Southgate's punditry commence.
A status update on the
the Dark Knight Rises UK facebook page
gave us the clue that a new reveal was on the way. The update was a simple series of numbers - 11.06.12 17.45 - otherwise known as halftime of the Euro 2012 game first round clash.
The new footage was revealed to publicise the release of advanced box office tickets for the blockbuster. The date for your diaries - you all know it by now - is
20 July
.
Dark Knight Rises posters and stills collection
By Ed Holden
Are you sure you want to delete this comment?
To celebrate the upcoming release of Iron Man 3 we ask - who's your favourite superhero?
Thanks for being one of the first people to vote. Results will be available soon. Check for results
Total Responses: 1,142
Not scientifically valid. Results are updated every minute.