Justin Timberlake: New Esquire interview and photoshoot
We've plundered the best of Esquire's new interview with the international popstar turned up-and-coming character actor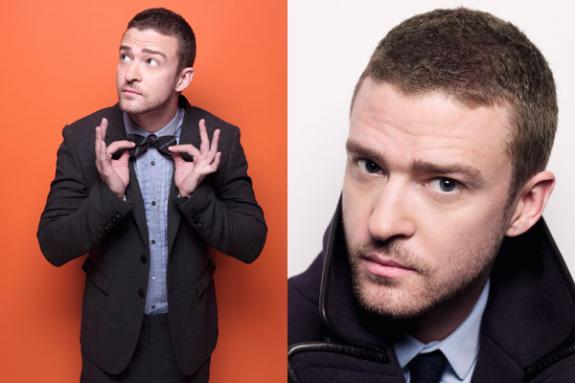 Friday 28 October 2011. His face and name cross ages and oceans. He has shifted millions of albums and more recently he's successfully become a wise cracking self-effacing comic actor and stars in the new sci-fi thriller In Time, out 1 November.
 
JT tells Esquire about fancying Pippa Middleton, how he's not trying to be a serious actor, having music in his blood, taking time out and being proud of his achievements.
 
On fancying Pippa Middleton:
"Us American males are big fans of Pippa. We like the Middletons very much. I'm going to sound like a sleazeball. I'm going to stop right there."
 
On answering his critics:
"People have made me feel I'm trying to be a serious actor, which is hilarious. I'm not trying to be a serious actor. I just want to do a good job."
 
On always being an actor:
"I feel there was a lot of 'is this going to be good or not?' I could see how a persona of what you do musically becomes embedded in people's minds. But I feel like all I ever did on stage was act, in a way. I don't feel like that's exactly who I am. I don't wear waistcoats when I'm at home."
 
On owing his acting break to director David Fincher and writer Aaron Sorkin:
"David Fincher put me in a movie. I feel like I owe so much to him and to [writer] Aaron Sorkin because they both really took a chance on me."
 
On having music in his blood:
"[Music is] a part of my blood cells, my cellular being, but I don't put music out just to do it."
 
On finally taking time off to relax:
"I think you can work and work and work and never really live. The plan is to have no plan. I'll probably travel, but I'd rather be spontaneous. I feel like I've earned at least a little bit of time to do that."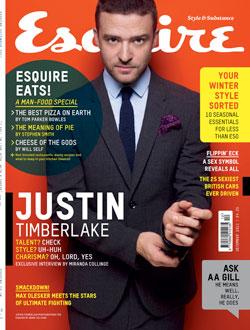 Reflecting on his achievements:
"There were times I was motivated but the fact I wanted to be the biggest music star in the world. Maybe it wasn't a conscious thought, but it was an underlying theme. I've spent a lot of time feeling like I needed to validate so much of who I was by what I did. After I turned 30 I started asking myself questions why. The only validation I crave now is to be inspired in the same way I've always been. That's all I really owe myself at this point. If I stopped now, I could look at everything I've done and be so proud."

Read the full Justin Timberlake interview in the December issue of Esquire - on sale Wednesday 2 November.

Photos: Benni Valsson
More on MSN Movies
13 Celebrities who look like Tintin
Bond 23: What we know
Review: The Ides Of March
These are the top ten most-watched movies in the UK according to a new poll. Which of these have you seen the most?
Thanks for being one of the first people to vote. Results will be available soon. Check for results
Indiana Jones: Raiders of the Lost Ark

4,888 votes

Star Wars Episode IV: A New Hope

3,585 votes

Back to the Future

2,788 votes

ET the Extra-Terrestrial

1,745 votes

Independence Day

2,673 votes
Total Responses: 28,412
Not scientifically valid. Results are updated every minute.