Movies on demand: This week's picks
Your weekly roundup of the best cinema to be consumed on your own turf...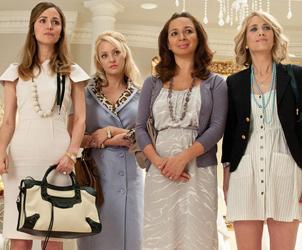 Bridesmaids
Available on: Sky Movies
So bridesmaids are poised, demure and dignified, right? This raucous comedy from one-man hit factory Judd Apatow will soon disabuse you of that notion, there being no limit to the drunken hijinks, inappropriate behaviour and bowel-emptying embarrassment that Kristen Wiig and her chums are guilty of in the lead-up to Maya Rudolph's nuptials. Jon Hamm and Chris O'Dowd are the men caught up in the craziness in an Oscar-nominated farce that proves Hollywood's sisters really can do it for themselves.
Carnage
Available on: LoveFilm
If there's not enough vomiting for you in Bridemaids, you can always catch Kate Winslet blowing chunks in a witty comedy of manners from Roman Polanski that takes delight in the discomfort endured by its privileged New Yorkers as they come together to thrash out a dispute involving their children. Jodie Foster, John C Reilly and Christoph Waltz round out the cast in a film that's sure to make you think twice the next time you're offered day-old peach cobbler.
The Descendants
Available on: LoveFilm
George Clooney has a lot on his mind in Alexander Payne's comedy drama, which finds him playing a businessman in Hawaii whose sun-drenched life is thrown for a loop when his wife is rendered comatose by a water-skiing accident. Forced to deal with two stroppy daughters and the realisation that his missus was unfaithful, our hero is left with a number of questions in a movie that will make you laugh, cry and seriously consider a vacation in the Pacific.
Dreams of a life
Available on: NetFlix
It beggars belief in this day and age that a woman could lie dead in her north London flat for three years without anybody missing her. Yet that was the sorry fate of Joyce Vincent, a tragic victim of society's indifference whose life is pieced together in this powerful and thought-provoking film. Have hankies at the ready during Carol Morley's award-winning documentary, which uses archive materials, dramatic reconstructions and interviews with its subject's acquaintances to give Joyce some belated justice.
The Woman In Black
Available on: LoveFilm
Daniel Radcliffe didn't need a magic wand to conjure up a box office hit with this spine-chilling thriller, an effective adaptation of Susan Hill's ghost story whose success bodes well for its star's post-Harry career. Cast as a young lawyer caught up in spooky goings-on when he leaves London to look after the affairs of a recently deceased widow, Daniel more than holds his own in a cast which includes Janet McTeer, Roger Allam and Cairan Hinds. Boo! Only kidding…

Roundup: The best movies in cinemas this month

By Neil Smith
To celebrate the upcoming release of Iron Man 3 we ask - who's your favourite superhero?
Thanks for being one of the first people to vote. Results will be available soon. Check for results
Total Responses: 1,124
Not scientifically valid. Results are updated every minute.