MSN Movies gets Brave with a bow and arrow
Eat your heart out Katniss Everdeen – MSN Movies' Emma Roberts showed off her bow and arrow skills at an archery experience day to celebrate the release of Pixar's latest movie, Brave.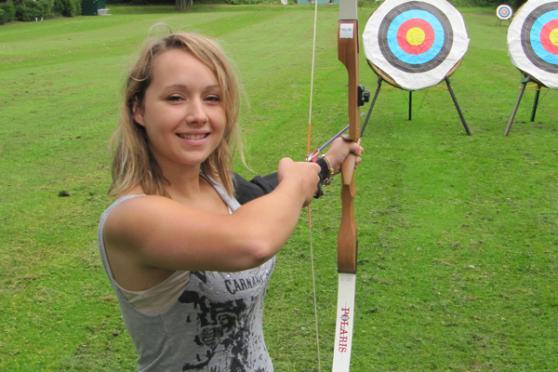 I hope you appreciate this article. Not because it's a Shakespearean masterpiece (although I wouldn't say it's far off) but because of the colossal length of time that it has taken me to write. It's not the subject matter that has swallowed the hours away but the fact that I am having to type with just one hand. You see, my left arm has been pretty much out of use for the past 24 hours thanks to archery-induced arm strain. Ouch.
Still, despite having to eat my dinner with one hand and adopting a fairly questionable driving position (I swear I could hear my old driving instructor yelling the words 'ten and two' when I was cruising home) I have to say that my archery experience day was well worth it!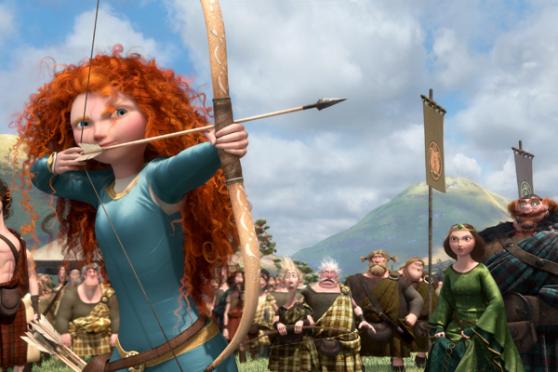 To celebrate the launch of Pixar's latest movie Brave, Disney invited a group of journalists to test their bow and arrow skills at a target range in north London. Thinking myself as a bit of a Katniss Everdeen or even a Legolas from Lord of The Rings, I jumped at the chance to get acquainted with a bow and arrow. After all, if Jennifer Lawrence can do it, surely I could too? I strutted on to the target range thinking that my first shot would be a perfect bullseye and everyone would applaud me gleefully.


My cockiness was soon diminished though after my first arrow failed to hit the target. When I say failed, I mean that my wayward arrow probably hit a cow in the field beside ours. I found out the hard way that archery is actually very difficult!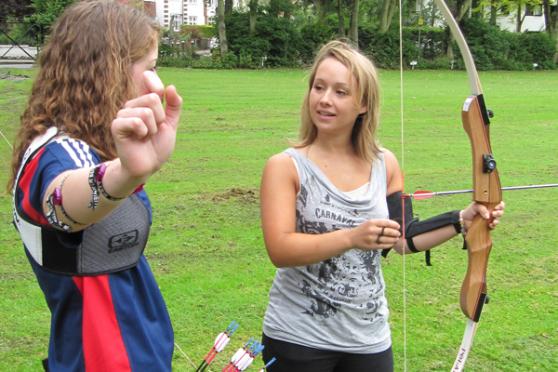 Things didn't get better when the journo next to me seemed to be a wood elf in disguise – she got a near perfect shot almost every time. Well, there's nothing like a spot of sport to bring out you're competitive nature and I made sure I listened to the instructor's every word as he guided me through my next shot. I suppose he didn't want any more cow casualties.
See pictures from the movie Brave!


Hurray! I finally managed to hit the target, but at the cost of my feeble arm muscles. Archery may look easy, but it makes you work muscles that you never thought you had! (Or maybe, the problem in my case was that I didn't actually have the muscles in the first place. Note to self: go to the gym.)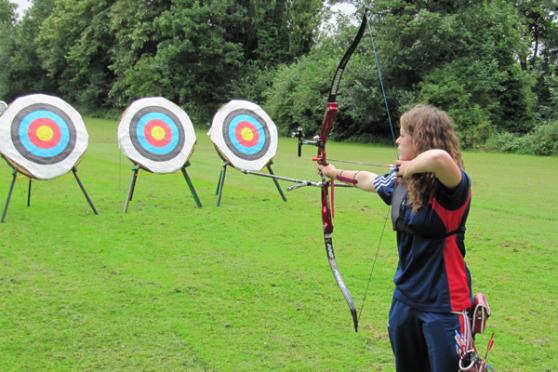 We were also joined by Becky Martin, who, at only 16 years old, is one of the best archers in the country. With her huge, curly locks, she couldn't help but remind me of Merida, the main character from Brave. Like Merida, Becky was amazing with her bow and arrow – she made Legolas look like, well… me.

 
What's more, her bow looked like it was some sort of futuristic alien weapon, making my bow (which was called Anita) look a little lame.


Bow envy aside, as the day went on, my archery skills improved and, although I came second to last in the competition (I swear some of the journalists were members of a secret archery society) I had a fantastic time.


In fact, maybe when I watch the movie Brave, I can take down some notes from Merida's archery scenes and become even better. Then again, maybe I'll leave the sharp-shooting for the stronger-armed journalists out there!


Brave is out in cinemas across the UK now.

No cows were harmed in the making of this blog. I don't think.
To celebrate the upcoming release of Iron Man 3 we ask - who's your favourite superhero?
Thanks for being one of the first people to vote. Results will be available soon. Check for results
Total Responses: 1,108
Not scientifically valid. Results are updated every minute.