Rumour: Transformers 3 is actually pretty good!
We haven't seen it yet. But there's a lot of talk about Dark Of The Moon being not-awful. Is this the beginning of 3D movies standing alone as their own genre?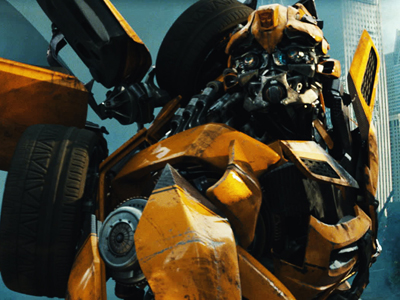 Yes, it's true. There's a buzz around the new Transformers. What we've been allowed to see so far has demonstrated that it can take the 3D blockbuster to the next level of 'woah' factor. It promises a final action sequence that is essentially a one-hour battle. To hell with the storyline! This is the cinematic equivalent of a Metallica concert.
It emerged last month that cinema-goers have fallen out of love with 3D following news that more people went to see Pirates 4 in the traditional 2D format than in the high-tech format. Dreamworks chief Jeffrey Katzenberg has called the situation 'heartbreaking' blaming the demise of 3D on his own industry's rush to exploit the trend. Following the commercial success of Avatar, there was a rash of 2D movies pointlessly and cheaply shanked over to the new format. Perhaps it is Michael Bay's calling to step in and rescue 3D.
"The blitzkrieg collision of pixel and steel up on the big screen may well be more technically brilliant than anything yet seen in the current 3D era," said The Guardian.
"For a solid hour, Bay and his CGI-created robot buddies decimate Chicago. And I won't lie: seeing it so realistically and utterly leveled was almost more than I could handle," said the early review which emerged on aintitcool news.
That same review actually goes on to say that the story is fleshed out decently. We were all ready to lay into Rosie Huntingdon-Whitely following the camera-friendly non-character played by Megan Fox. Yes, we can tell from the stills that she'll be stripping down to not very much; that's a given. But the early write-ups suggest that she actually has a character who's a part of the story. Hey, she won't be up for any Oscars but we're taking baby steps here!
They were confident enough to move Transformers 3 forward two days to a global release on 29 June. This, we're told. was the result of positive test screening. With Green Lantern mired in poor reviews, Optimus and friends will enjoy 16 days of clear air before the release of Harry Potter 7 - the next big blockbuster on the table.
Undoubtedly it will do well at the box office and it will be better than the horrific second movie Revenge Of The Fallen. What's most interesting, though, is the idea that we're meeting a movie designed for 3D with a new set of priorities. This might be the beginning of 3D movies emerging as their own genre. Hollywood might be beginning to admit that the great "story" films are best in 2D.
Remember when Imax first emerged? We used to watch strange films like "flying adventure" and "haunted house" or similar because that's all that could be done with the massive cameras. Now that the technology is established, perhaps it's time for 3D to return to purpose-built movies (ideally with robots smashing each other).

So the general idea is if the film is rubbish then 3D may save it.
If it's any good then 3D will ruin it.

If 3D is basically seen as an excuse to make rubbish films that people will simply watch because their in 3D then there's no surprise in the fact it's not taking off like it was expected to as once you've seen on 3D film you've seen them all and the shine goes off the fact that you got to see something in 3D.

Are you sure you want to delete this comment?
The Breakfast Club is 30 - which of the kids from the movie is your favourite?
Thanks for being one of the first people to vote. Results will be available soon. Check for results
Andy Clark (played by Emilio Estevez)

164 votes

Brian Johnson (played by Anthony Michael Hall)

78 votes

John Bender (played by Judd Nelson)

213 votes

Claire Standish (played by Molly Ringwald)

100 votes

Allison Reynolds (played by Ally Sheedy)

100 votes
Total Responses: 655
Not scientifically valid. Results are updated every minute.