Movies On Demand: This Week's Picks
By Neil Smith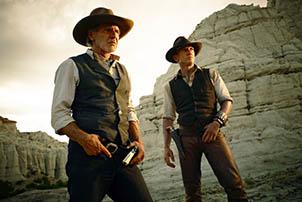 Cowboys & Aliens
Available on: Sky Movies
This genre mash-up might not have set box office tills alight, but that's no reason not to have Jon Favreau's spectacular tale of extra-terrestrials wreaking havoc in the Old West round your private campfire. Daniel Craig plays an enigmatic gun-slinger who wakes up in the desert with no memory and a bracelet attached to his wrist, the purpose of which becomes clear after he comes into contact with Harrison Ford's cantankerous cattleman. Expect hi-tech thrills and horse-based spills a-plenty. Yee-haw!
Extremely Loud & Incredibly Close
Available on: LoveFilm
The world might not have been ready for a magical realist, child's eye take on the World Trade Center attacks. But that's what Stephen Daldry gave us with this faithful adaption of Jonathan Safran Foer's 2005 novel, which tells of an eccentric youngster's attempts to make sense of his life after his dad is killed in the 9/11 atrocities. Tom Hanks and Sandra Bullock lead a heavyweight cast that includes Viola Davis, John Goodman and an Oscar-nominated Max Von Sydow.
J Edgar
Available on: LoveFilm
Some might question the logic of casting Leonardo DiCaprio as the famed FBI founder J Edgar Hoover then covering him with so many latex prosthetics as to render him virtually unrecognisable. Even beneath a ton of make-up, though, the Titanic star delivers a sturdy performance as the paranoid G-Man who reinvented law enforcement in the US of A and became feared by criminals and presidents alike. Naomi Watts, Armie Hammer and Dame Judi Dench co-star in Clint Eastwood's meaty biopic.
A Separation
Available on: Sky Movies
The winner of this year's best foreign film Oscar is a powerful portrait of a disintegrating marriage that gains extra force for taking place against the repressive backdrop of modern Iran. Telling the story of two couples whose lives become tragically intertwined after one of them separates, Asghar Farhadi's drama skillfully weaves the personal and the political by having the State adjudicate on the domestic travails that ensue. The result? One of the strongest subtitled releases in many a year.
Troll Hunter
Available on: NetFlix
Utilising the "found footage" format popularised by Cloverfield, The Blair Witch Project and (too) many others, this Scandinavian creature feature injects new life into the formula by having its camcorder material generated by a group of students on the trail of mythical monsters rumoured to inhabit the snowy forests of Norway. These fabled behemoths turn out to be extremely real indeed, prompting a series of close encounters and hair's-breadth escapes guaranteed to have you on the edge of your sofa.
To celebrate the upcoming release of Iron Man 3 we ask - who's your favourite superhero?
Thanks for being one of the first people to vote. Results will be available soon. Check for results
Total Responses: 1,094
Not scientifically valid. Results are updated every minute.