Breaking: I won't be an animator on Ice Age 5
By Ed Holden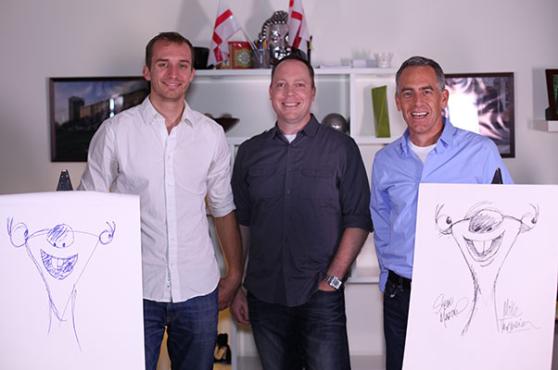 Shocker!? I thought so! That's my Sid on the left and Ice Age 4: Continental Drift director Steve Martino's on the right. Yup, that's why they pay those guys the big bucks.
But hey! Though the expected job offer never came along, I was lucky enough to learn how to draw a couple of much-loved Ice Age characters thanks to the co-directors of Continental Drift: Mike Thurmeier (centre) and Steve Martino (right). And, as someone whose never doodled anything of any use to anyone before, I didn't do all that badly did I?!  

No, we didn't pre-arrange these fabulously non-clashing shirts. It just happened that way.

Ice Age 4: Continental Drift is full of laughs from Sid and, of course, Scrat, who we also drew! It's out on 13 July and we'll have this full, fun-filled video for you that week so stay tooned!
To celebrate the upcoming release of Iron Man 3 we ask - who's your favourite superhero?
Thanks for being one of the first people to vote. Results will be available soon. Check for results
Total Responses: 1,125
Not scientifically valid. Results are updated every minute.