MSN Movies hangs out with Rupert Grint
When we were offered the chance to chat to everyone's other favourite boy-wizard, Rupert Grint, we just couldn't say no.
by guest blogger Emma Roberts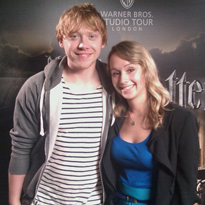 There are several reasons why Rupert Grint is by far the coolest out of the Harry Potter kids and, after hanging out with him to talk about The Making Of Harry Potter tour, I feel it's only polite to share them with you.

Firstly, he has achieved what millions across the globe can only dream of...  he has his very own ice cream van! You can't get much cooler than driving a vehicle with its very own sub-zero refrigerating system in it. In our exclusive interview (which will be available online in the next few weeks) Rupert proudly admitted that he still owns his famous ice cream van and he even happily answered the genius fan question: "If you were an ice cream, what would you be and why?" We know some movie stars who would have stormed off in a diva-fit after hearing such a query, but Rupert laughed as he answered (and no, we're not telling you what he said... yet!)

Rupert also has some really cool friends, including musician of the moment Ed Sheeran. Rupert is a regular at the singer's concerts and he's even starring in Ed's music video for his single Lego House. The ex-Potter star even admitted to us that he always wanted to be in a band – could a music career be on the cards for Rupert? You'll have to wait for the interview to find out...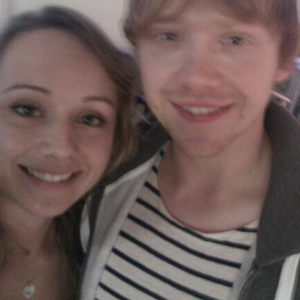 The coolest thing about Rupert though was that he was just so down-to-earth - chatting to him was like talking to a laid-back mate at my local pub. He also looked effortlessly stylish, wearing a worn out pair of Converse trainers and an indie-looking t-shirt and he was happy to pose for no less than three photos with me after my camera-phone decided to play up in a typical fashion. Now, that's really nice, considering you've got a better chance of bumping into Elvis in Atlantis than getting a single picture with most movie stars.

For now, we'll have to leave you with this brief insight into what it was like hanging out with Rupert Grint, but you'll be able to feast your eyes on the full video interview later on in the month...
Are you sure you want to delete this comment?
These are the top ten most-watched movies in the UK according to a new poll. Which of these have you seen the most?
Thanks for being one of the first people to vote. Results will be available soon. Check for results
Indiana Jones: Raiders of the Lost Ark

4,879 votes

Star Wars Episode IV: A New Hope

3,580 votes

Back to the Future

2,783 votes

ET the Extra-Terrestrial

1,744 votes

Independence Day

2,669 votes
Total Responses: 28,372
Not scientifically valid. Results are updated every minute.