Star Trek Into Darkness: Footage reaction
I was lucky enough to catch the first nine minutes of footage from the highly anticipated 2013 blockbuster Star Trek Into Darkness.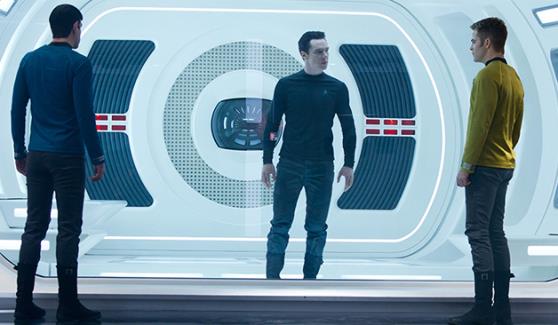 We begin in London in the year 2259, allowing JJ Abrams' I-Max camera to sweep across a pretty amazing futuristic vision of the capital (we still have trees to go along with massive buildings and flying cars).
Noel Clarke (great part for him) is just about to give up on his terminally ill daughter when a sinister voice says "I can save her". Yes, new villain Benedict Cumberbatch is about to leverage himself a new henchman. Yes, Cumberbatch, widely rumoured to be playing Khan (as in 'Wrath Of') is already a bit terrifying.
Cut to Class M Planet Nibiru, where our heroes Kirk (Chris Pine) and Bones (Karl Urban) are escaping some hostile natives in a bizarre red forest. Meanwhile Spock (Zachary Quinto) is attempting to save the planet by dropping a 'super ice cube' into the volcano that's about to blow them all to smitherines.
Sound like Star Trek much to you!? There's definitely a nod to the original TV series in the way we launch straight into this planetary emergency scenario.
As you can imagine, it looks spectacular. Producer Bryan Burk told us that JJ Abrams fell in love with 3D and I-Max (in which the whole movie is shot) when he was introduced to the new technology and he's actively pushing the boundaries here.
"Our villain is much stronger this time round," Burk reports. And it's true, Cumberbatch looks amazing in the brief flash we saw.
Currently billed as a character called John Harrison (though the weight of Khan rumours is pretty conclusive), Cumberbatch appears chuffed with his new villain. "He's a terrorist. He does despicable things for what he thinks are good purposes," he told us at the screening. "He's a one-man army of destruction," he added. And we can't wait to see more of him!
Are you sure you want to delete this comment?
The Breakfast Club is 30 - which of the kids from the movie is your favourite?
Thanks for being one of the first people to vote. Results will be available soon. Check for results
Andy Clark (played by Emilio Estevez)

160 votes

Brian Johnson (played by Anthony Michael Hall)

76 votes

John Bender (played by Judd Nelson)

206 votes

Claire Standish (played by Molly Ringwald)

96 votes

Allison Reynolds (played by Ally Sheedy)

97 votes
Total Responses: 635
Not scientifically valid. Results are updated every minute.