Spielberg snubbed by Directors Guild
War Horse has received some shining reviews and it's also fallen at a few fences. Still, it's surprising to see such a name denied by The Director's Guild.
I have to confess a sense of guilt for criticising a movie this week. I've frequently shaken a star or director's hand in an interview then proceeded to rubbish their movie at the review stage. It's part of the job.


But Steven Spielberg!? This was different. I was beyond excited to meet him at the UK premiere of War Horse. It's a surreal and wonderful experience to meet the man behind Jaws and ET. He was charming and absolutely on the money with his comments about wanting to make it a family movie.


That withstanding, I did take issue with Spielberg's treatment of The First World War in War Horse where the gallantry and the camaraderie is amplified and the inhumanity of it all was, I found, not meaningfully portrayed. I asked him if he intended to make a family movie at the premiere and I think he recognised that I was questioning that intention. "Yes, absolutely," he replied. For me, though, the version doesn't get away with this as easily as the book or the stage play.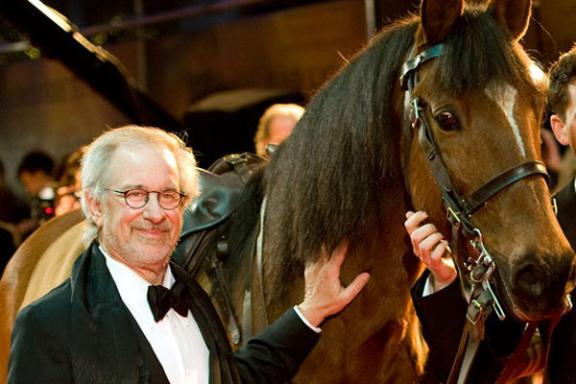 Still, the words tumbled out at the premiere. As he was shuffled along to the next interview I shook his hand and said "congratulations I really enjoyed it," whilst reminding myself to punch my own two faces later that day. Then again I suppose I did enjoy it on many levels. Perhaps I'm craving an 18-rated War Horse that could never have existed.


Anyway, it appears I am not alone. The Directors Guild Of America has snubbed Spielberg in its Best Director nominations, giving nods to Woody Allen (Midnight In Paris), Michael Hazanavicius (The Artist), David Fincher (The Girl With The Dragon Tattoo), Martin Scorsese (Hugo) and Alexander Payne (The Descendants).


Hazanavicius was essentially a shoe-in here as momentum builds behind The Artist. But Spielberg has long been considered a certain inclusion on these Best Director lists. His body of work does bolster the argument for his inclusion. Just ask Scorsese and Allen, who are nominated this year with movies that, decent as they are, aren't really their best work.

The best movies this January
Are you sure you want to delete this comment?
To celebrate the upcoming release of Iron Man 3 we ask - who's your favourite superhero?
Thanks for being one of the first people to vote. Results will be available soon. Check for results
Total Responses: 1,292
Not scientifically valid. Results are updated every minute.