They're making an Independence Day sequel now?!
Crikey! Independence Day producer Dean Devlin has said that he and director Roland Emmerich are working on a sequel, leaving me wondering whether there are any successful Will Smith movies that AREN'T getting sequels.
"I can tell you that Roland and I have been working together for the first time in 11 years and we're every excited about the idea of doing it," said Devlin.

If it happens, put it alongside Bad Boys 3, I-Robot 2, Hancock 2, Men In Black 3 and After Earth on the Will Smith sequel train. What next? Hitch 2: Back in the saddle?!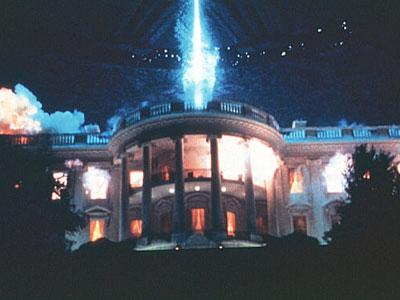 "Whether or not we can make this happen, if we can get all the pieces to come together, that's gonna be challenging," continued Devlin.  "But creatively, for the very first time since we did the original, I feel we have a worthy concept, a worthy path to go."
"We resisted doing the sequel for years because we still wanted to honor the first one," added Devlin.
"We only wanted to do it when we had an idea and a concept that creatively felt like it honoured the first one - that it felt like an organic sequel as opposed to 'let's just go make some more money'."
I'm assuming that big Will will be involved, though it's been rumoured that Will Smith he's asking for a fee of $50 million to star in the sequel(s).

He's always shown a commitment to dispersing his passion projects (Seven Pounds, Ali) with commercial flicks. But, following a two-year hiatus, Will seems devoted to making bank with this sequel-tastic slate. It's like he read about Tom Crusie earning the most cash over the last year and wants his spot at the top of the tree back.
To celebrate the upcoming release of Iron Man 3 we ask - who's your favourite superhero?
Thanks for being one of the first people to vote. Results will be available soon. Check for results
Total Responses: 1,210
Not scientifically valid. Results are updated every minute.