Edgar Wright talks Brandon Generator
The Shaun Of The Dead director has co-created an innovative online animation in which you, yes YOU, can write the stories and draw the illustrations. We chatted to the self-confessed nerd about perhaps his geekiest project yet.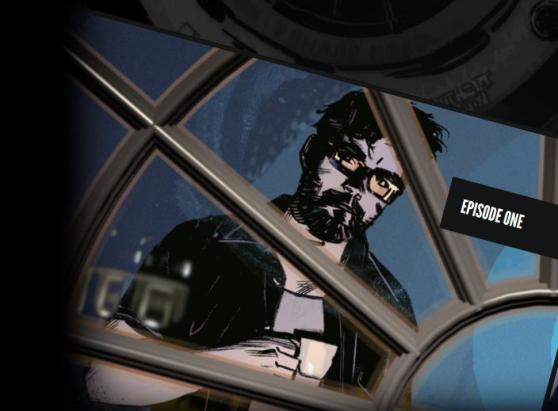 Where did the idea for Brandon Generator come from?
The initial idea was to produce an interactive comic of sorts that can show off the capabilities of ie9. From my point of view it was a new avenue and a way to do something a bit different. I'd never written a comic before but this is perhaps something more than that. The interactive element meant collaborating with the general public which I thought was an interesting idea. I've written with other people and I've also written on my own. Usually the experience of writing on your own is not dissimilar to what Brandon goes through in episode one of the animation. I really liked the idea of this cliffhanger where he's written all this stuff in a blackout. Then we ask the users to contribute the prose and the sketches that he's drawn on his notepad and the audio that he's recorded on his Dictaphone. It's been a lot of fun. It's been great putting it together but perhaps even better reading everyone's contributions.
See for yourself at
Brandongenerator.com​
How do you filter the public contributions? How have you found the process of finding useable material?
It isn't a completely open brief. It hasn't been like a writing competition or something like that. We've actually asked people what Brandon's written and drawn on his pad. You can see it all online. It's in the gallery at the moment. A lot of people did what I hoped they would which is to write in Brandon's voice. A lot of people have written with the same style that I have and they've in the voice that Julian Barrett (The Mighty Boosh) has narrated in. Some of them are completely random and that's perfectly appropriate too. I'm very pleased by how many people have taken the ball and ran with it and used the same style.
What is the best way to get an idea into the Brandon Generator story? What's your advice to would-be Brandon Generator contributors?

There's no mystery to it other than write something on the pad and press submit. We read them all. Many of the entries have made it into the second episode and some will be in future episodes.
We're impressed by some of the monsters people have drawn. Are we heading into a sci-fi/monster environment?

I guess so. I describe it as being 'a head trip'. There are those elements but we're also very much in Brandon's world and we're really exploring his levels of reality.
Will the story ideas need to be more specific as we get further into the story?

Yeah. At the end of episode 2 there will be a different task where we just ask people what happens next rather than using the 'blackout' dynamic from episode 1. The idea is that we have a different way of asking people to progress the story at the end of each episode. The prompts will be different each time. At the end of the second one you'll be able to upload a photo which could potentially be in the third episode drawn by Tommy. There will also be a chance for comic artists to upload the next frame of the story. They can go away with a PDF, draw on it then upload it. It's great to be able to use different tools for each episode.
What is the most outlandish idea you've seen or read from the public in this process?

That's a great question. There was one particular bit of prose which springs to mind that started something like: "Ergle dived into a sea of rancid custard and swam across to the apple crumble peninsula."
The creatures have been hilarious. There's often a really simple idea that really made me laugh. What I've enjoyed is sowing the seed of an idea and watching people run with it. So someone actually drew a monster but the monster
was
Brandon. So I thought 'well that's an interesting idea' and it made it all about his psyche. A lot of the prose ideas have picked up where we left off. There have been an awful lot about coffee. Then there have been some bizarre short stories. We had one about Santa being kidnapped which probably won't make the next episode but it was amusing to read. The good thing is that they're all up on the site, even if they don't make the episode. There's no right or wrong answer. It's a great creative exercise. The whole thing is about people using it as a forum to expand their minds, really.
Tommy Lee Edwards is one of the best illustrators around. As a comic book fan you must have been excited to work with him.

Yeah I actually got to know Tommy through his work on Jonathon Ross' comics. And I actually wrote these scenes knowing that they'd be drawn in Tommy's visual style. I love the room it's set in. I did have to tell him that it might be a normal size flat in the states but in London that kind of flat would cost you a million pounds. We liked the idea of the big window being an eye on the world.
It's striking that you're a writer and you've created this. Does Brandon's situation mirror your own at any point in life.

Oh yeah there are definitely autobiographical elements in there. I was writing something on my own last year which I eventually got done but it was like pulling teeth to get there. If you're not working with a co-writer it can be really tough to stop yourself getting distracted. The laptop is the worst thing because all your distractions are right in front of you. That never used to happen when you had a blank sheet of paper and a typewriter. Letting the cursor go down from the doc is always a bad idea. But yeah some of the things in there are me 'dracula o'clock' is me. The espressos are me. Using the thesaurus for inspiration is me too!
See for yourself at
Brandongenerator.com​
To celebrate the upcoming release of Iron Man 3 we ask - who's your favourite superhero?
Thanks for being one of the first people to vote. Results will be available soon. Check for results
Total Responses: 1,079
Not scientifically valid. Results are updated every minute.