Positive early reviews for The Amazing Spider-Man
By Lara Martin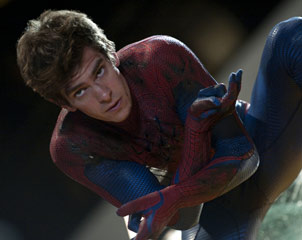 As one of the most hotly-anticipated movies of the summer, fan expectation surrounding The Amazing Spider-Man is huge – and what appears to be the first published review suggests comic book fans can breathe easy.
According to ComicBookMovie.com, a Belgian website has given the superhero movie four stars, lavishing praise on its mixture of comedy, drama and action, and describing British actor Andrew Garfield as the "perfect" Peter Parker.
That will be good news for Garfield, who admitted at a recent press conference that he'd been petrified about stepping into the iconic character's shoes.
"I am terrified to take on this role because it means so much to me," he said. "So I know how much it means to other people."
The Amazing Spider-Man had its world premiere in Tokyo this week, where Garfield was joined by co-star Emma Stone, who plays his on-screen love interest Gwen Stacy.
"She's involved in helping Peter save the day as Spider-Man, of course," she said of her character. "She doesn't sit idly by and she doesn't let him being a superhero stop the relationship from continuing or complain about it. She becomes a partner."
Fans will get their chance to judge the film when it opens in the UK on July 3, and if they like it as much as the critics, it looks like we can expect Spidey to grace our screens for years to come.
"Spider-Man is a perennial character," said director Marc Webb. "It's not like Harry Potter who has a closed canon. There is a 50-year canon of Spider-Man comics."
To celebrate the upcoming release of Iron Man 3 we ask - who's your favourite superhero?
Thanks for being one of the first people to vote. Results will be available soon. Check for results
Total Responses: 1,083
Not scientifically valid. Results are updated every minute.