Bellatrix Le STRANGE. Helena Bonham Carter reveals Harry Potter costume change
Strange? You bet she is. Helena Bonham Carter wore a nappy on the set of The Half Blood Prince, a new interview has revealed.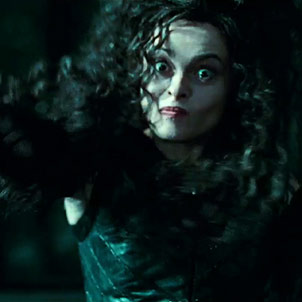 File this one under bizarre on-set stories that are curiously fitting the character. Yes Helena Bonham Carter was wearing nappies when she filmed her scenes for Harry Potter And The Half-Blood Prince.


She had a weak bladder after the birth of her second child, reports Style Magazine in a new interview with the star. She started filming only 12 weeks after the birth of her daughter Nell.


We're not making light of a genuine medical problem here. But it's a particularly Bellatrix-like decision by Helena to talk about this in the press five years after such a highly personal incident.

Her more high energy scenes lead to some embarrassing leaks. She resorted to wearing a child's diaper following some embarrassing drying-off sessions.

"None of the men knew I wore diapers," she told Style. "They don`t know, you see. But all the girls were, like, `How can you?` But, actually, I don`t think I was too embarrassed. There`s something quite liberating about having a baby."


"I really couldn't jump up and down and scream without losing most of my bodily liquid. They had these air dryers (on set), these huge things - that's where I would dry myself off.


"There's something quite liberating about having a baby... I loved having a baby."

Liberated indeed. We appreciate the openness from Helena, who is making a name as one of cinema's most beloved oddballs.

13 movie sequels you might not know are happening
To celebrate the upcoming release of Iron Man 3 we ask - who's your favourite superhero?
Thanks for being one of the first people to vote. Results will be available soon. Check for results
Total Responses: 1,136
Not scientifically valid. Results are updated every minute.