Movies on demand: this week's picks
The best new home entertainment options, by Neil Smith
The Chameleon
Available on: Sky Movies
There's a great film called The Imposter coming out this month based on the true story of a Frenchman who passed himself off as an American teen who had been missing for three years. Sky, though, are stealing its thunder by premiering this 2010 dramatisation of those same events, with Famke Janssen as an FBI agent suspicious of the happy family reunion. Terminator 3 star Nick Stahl – who rather spookily went missing himself earlier this year – takes a supporting role.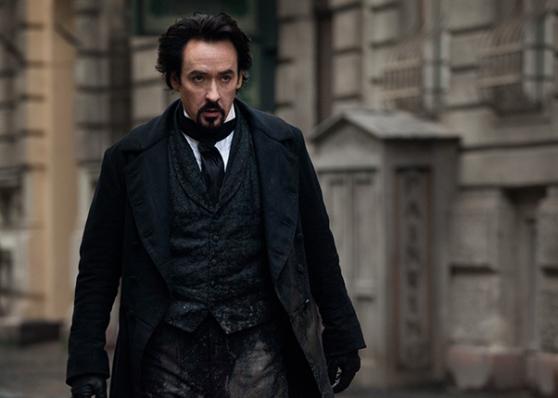 The Raven
Available on: LoveFilm
John Cusack sports some distinctive facial hair in his role as Edgar Allan Poe in this gory thriller, which sees the debauched author teaming up with a dogged policeman (Clash of the Titans' Luke Evans) to hunt down a copycat killer who models his crimes on those in Poe's Gothic fictions. Alice Eve is a damsel in distress due to a murderer's ministrations in a mystery that might make you pause the next time you pass a library or bookstore.
Retreat
Available on: Netflix
If you enjoyed Cillian Murphy's cameo in The Dark Knight Rises, you may enjoy seeing him take a meatier role in this psychological drama about a married couple whose visit to a remote island off the Scottish coast is unsettled by the arrival of a young and potentially dangerous soldier (Jamie Bell). Claiming that a deadly virus has swept the mainland, this mysterious stranger stokes a tense atmosphere that starts to impact negatively on Cillian's relationship with wife Thandie Newton.
Salute
Available on: LoveFilm
With the Olympics in full swing, you might not have much of an appetite for an Olympic documentary. If you do, however, you are certain to be captivated by the story of the two African-American athletes whose clenched fist salute caused such a hoo-hah at the 1968 Games in Mexico City and how the third man on the podium, Australian silver medalist Peter Norman, came to play a pivotal role in their protest. The director, Matt Norman, is Peter's nephew.
Soul Surfer
Available on: Sky Movies
Another true story drawn from the world of sports forms the basis to this inspirational US drama about a 13-year-old surfer who loses her arm in a shark attack. How she found the strength to get back on her board and return to competition will warm the heart, provided you don't mind the sentimental wholesomeness that coats the movie like a thick layer of syrup. AnnaSophia Robb is the courageous heroine while Dennis Quaid and Helen Hunt play her parents.
To celebrate the upcoming release of Iron Man 3 we ask - who's your favourite superhero?
Thanks for being one of the first people to vote. Results will be available soon. Check for results
Total Responses: 1,086
Not scientifically valid. Results are updated every minute.