Transformers 4 and 5: How can they make them good?
Transformers has become a totem of cynical box office maths: Robots + SFX + supermodel curves = bank.
You'll notice that terms such as 'script', 'story' and 'acting' made no appearance in that formula. Transformers sits alongside Pirates. They're the two mega-franchises that can make a bunch of money by appealing to the lowest common denominator. They don't even have to try.
Michael Bay took no longer than two minutes to cut to a close-up of Rosie Huntington-Whiteley's arse in Dark Of The Moon - the last half-comprehensible effort that, at time of writing has made something like $1 billion dollars worldwide. Bay knows what he does best and sees no reason to change a formula that works.
That's all well and good. And Transformers 4 and 5, recently announced, could easily dupe the masses again with snazzy trailers designed to spark every synapse that leads to the opening of your wallet.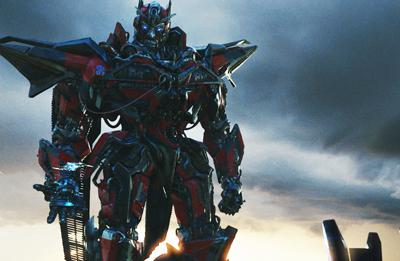 But what if they buck the trend and come up with something that actually makes us care what happens to the characters? You know, like in a movie. Rather than dragging us through a series of sparsely linked set-pieces that leave us feeling like our eyeballs have been through an intergalactic war, how about we go old-school and make a 'movie' movie. Here are our suggestions.

Use the existing Transformers material
In their search for the next big climactic action sequence, the Transformers movies have felt the need to invent massive chunks of Transformers back story and mythology.

Revenge Of The Fallen conjured 'an ancient race of Transformers who used Sun Harvesters to drain stars of their energy in order to convert it to energon and power Cybertron's AllSpark'. Our 'AllSpark' went out about halfway through that sentence. And that's before we get to the 'Cybertronian symbols' lodged in Shia's head.

Dark Of The Moon delivered another slab of cyber history, this time involving 'ancient' Autobot Sentinel Prime who is brought back to life by 'the Matrix of Leadership', so he can find 'the pillars' which will open 'a bridge through space and time'.


They seem to think that these vast swathes of the Transformers universe will be mistaken for plot. But they're almost always entirely irrelevant, coming out of nowhere. ENOUGH! They need to use the 'plot' screen time they have to tie up the many existing loose ends from the already massive Transformers conflict. The last thing we need is some fresh Decepticon threat riding in on a cyber-unicorn because 14 millennia ago Optimus Prime's great great great granddad looked at him funny.
Yes to Statham
The news of Transformers 4 and 5 comes with the likely departure of Shia LaBeouf and Jason Statham's name has been firmly attached. Boyish Shia has been whinging his way through the Transformers landscape without a single convincing performance. We've simply endured him while waiting for the next flesh-revealing shot of Fox/Whiteley. Statham knows what's required here. He's a grown-up and he'll be able to convincingly take the lead in the Transformers world. He'll be a welcome alternative to the helpless passenger of the LeBeouf character. We're thinking high-kick vs Decepticon already.

Find the funny
Part of the problem is that the Transformers have consistently failed to poke fun at themselves. There's so much potential form them to find some laughs. But they've been drab and humourless throughout. If we're going to endure another 2+ hours of cyber-war we'll want to be laughing with them rather than at them. And no, those, 'street' bots from Revenge Of The Fallen were not funny. In fact they made us want to go home and punch our toasters, or something.

More on MSN Movies
Horror movies that really happened!
Mission Impossible video: Tom Cruise does his own stunts!
Are you sure you want to delete this comment?
These are the top ten most-watched movies in the UK according to a new poll. Which of these have you seen the most?
Thanks for being one of the first people to vote. Results will be available soon. Check for results
Indiana Jones: Raiders of the Lost Ark

4,875 votes

Star Wars Episode IV: A New Hope

3,579 votes

Back to the Future

2,782 votes

ET the Extra-Terrestrial

1,743 votes

Independence Day

2,667 votes
Total Responses: 28,357
Not scientifically valid. Results are updated every minute.